Paul Brett (known as ProperAdventure over on Instagram) is our latest DotScot ambassador and avid Scottish mountain climber. An-award winning photographer featured in publications such as Trail magazine, he's here to tell us what makes Scotland's climbs so special and, at times, dangerous.
Scotland's mountains are perhaps considered modest in height compared to ranges across Europe with most of them well within reach of the average hiker. However, they can still be treacherous at all times, particularly in winter. With extreme weather and temperatures on their exposed summits, they are very much the mountaineering challenge.
Yet I would still encourage anyone to get out there and see what they have to offer. Issues can be avoided if new climbers are always geared up for all eventualities. It also helps to seek advice from experts and suppliers on kit, winter walking and navigation.
My climbing career began on a cold and misty morning in December 2008 at Glendoll Lodge located in the southern reaches of The Cairngorms National Park. I was convinced by my friend Scott to join him for a climb. The target for the day was the looming Broad Cairn, a pretty standard mountain standing at the head of Loch Muick. I had no idea what was in front of me and it turned out to be a fairly uneventful climb, perhaps even a little boring at times.
Unexpectedly, the views struck my interest. Looking back on this event it now seems clear I was hooked right away. I can remember going out buying a book and maps for research and more substantial winter kit that following week.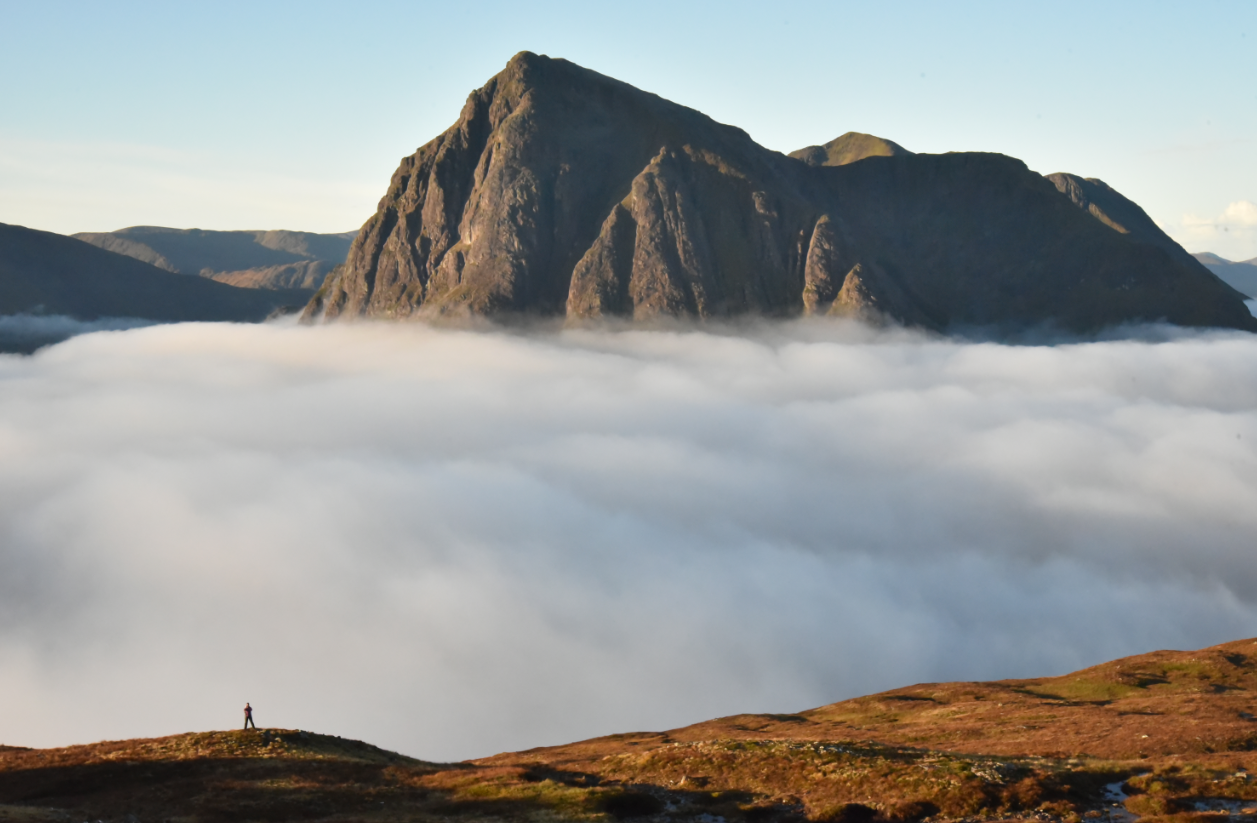 The next climb with Scott was Schiehallion, an iconic mountain often described as being the centre of Scotland. We were hit with freezing temperatures and zero visibility. It was as if the mountain was shouting in revenge, 'Who's boring now?!'
It was clear you had to be prepared, your route researched and ready for anything. I decided to do a winter skills course at Glenshee to learn avalanche assessment, crampon use and the correct procedure for using an ice axe. This is something that, years later, would save my life.
Since then I've climbed over 100 summits. It would be more if I could keep away from my favourite mountains! My passion for climbing and photography has grown in ways I'd never imagined.
I won Mountain Photographer of the Year with Trail Magazine with my shot of Carn Mor Dearg arête, the infamous ridge the links Carn Mor Dearg to Ben Nevis. My favourite and most eventful climb to date that required me to perform a self-arrest (stopping yourself with ice axe) after I slipped and was sliding down the mountain. I managed to stop with only a few cuts and bruises but it truly brought home the need for having the skills, kit and knowledge of what to do when needed.
The exposure from winning was a frenzy. TV appearances, newspapers and magazines gave me the audience to write my book. An ever growing Instagram and Twitter following allows me to share my experiences and  photography all over the world and make lifelong friendships.
It's all thanks to these beautiful Scottish mountains.