What could possibly be more Scottish than Haggis? …Venison Haggis! Matt Hooks, founder of servushaggis.scot, the first commercial producer of venison haggis, took time out just before Burns Day, to tell us more.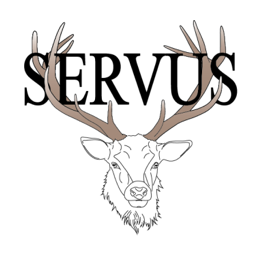 Servus Haggis is a small, specialist producer that proudly uses only the finest, natural Scottish ingredients to make a modern twist on this most iconic Scottish dish.
Venison is widely recognised as being low in fat, high in protein and rich in vitamins and iron. Combined with oatmeal grown and milled in Scotland, and Servus Haggis's secret blend of spices, this makes for a healthy and nutritional, as well as tasty, haggis.
The idea of using venison to make haggis came to Founder, Matt Hooks four years ago.
Matt spent a year as a ghillie on the Isle of Rum, managing the deer herds to ensure they live in harmony with some of our wildest and most beautiful countryside. This experience left Matt with a huge respect for these magnificent animals and he was always conscious that while most of the meat cuts were highly valued, the kidneys, liver and other organs were simply discarded. This gave Matt the inspiration to make haggis from these cuts that would otherwise be wasted. "Quality and sustainability is at the heart of what we do. I hate to see good meat go to waste and I think it's all about respect for the animals to make sure we use as much of their meat as possible", said Matt.
"Quality and sustainability is at the heart of what we do."
Servus Venison Haggis is all handmade from local, natural ingredients. Even the packaging is sustainable, using recycled cardboard and Harris Tweed off–cuts to make the labeling.
So why did Matt choose a .scot domain when he founded Servus Haggis?
"A .scot domain was an obvious choice for me. It embodies not just the Scottish nature of the dish but also, importantly, the ideals and ethos of the company: Quality and Sustainability. Scotland is recognised the world-over for the quality of its natural ingredients and food production. A .scot domain immediately portrays this and is a key part of our brand identity.
In fact, I registered the servushaggis.scot domain as soon as they were available back in 2014, before I had even made a single haggis!" Matt told us. "We also have .co.uk and .com but these re-direct to servushaggis.scot as our primary domain."
A .scot domain embodies the ideals and ethos of the company… and is a key part of our brand identity.
Although January is Servus Haggis's busiest month, with venison haggis (haggii?) up to 75cm long gracing Burns Suppers across the country, haggis-lovers don't have to restrict themselves to only eating it on Burns Day. With many and varied ways to eat haggis, including haggis toasties, haggis rolls, haggis pizzas and, of course, haggis pakora, haggis is a dish in demand, all year round.
If you'd like to try a quality, nutritional and truly sustainable Venison Haggis you can find them stocked at farm shops and farmers markets across Scotland and beyond. Or contact Matt directly, he's always happy to chat! http://servushaggis.scot/