Mark and Gemma Stewart at the launch of Dandelion. Pic by Alan McAteer
Please tell us a bit about the origins of Dandelion.Scot
Dandelion grew from a UK-wide open call for creative ideas, bringing together the worlds of science, technology, engineering, art and maths in 2020. From this, a team of festival organisers, freelancers, cultural directors, inventive technical and production experts, artists and producers, renowned earth scientists, dedicated specialists in sustainability, and youth and community engagement leaders came together to work on a bid for a one-off festival of creativity and innovation taking place in 2022.
After a rigorous research and development phase Dandelion was announced as the Scottish contribution to UNBOXED: Creativity in the UK, commissioned by EventScotland and funded via the Scottish Government.
Drawn from a wide range of organisations and specialisms from all parts of Scotland, the team has a common vision to initiate and support the genuine societal change and connection that people crave after more than eighteen months of social isolation.
Dandelion team members are based across Scotland and include:
Cosmo Blake: Sustrans
Fiona Burnett: Scotland's Rural College (SRUC)
Neil Butler: Wrap The World
Fiona Dalgetty: Feis Rois
Angus Farquhar: Aproxima Arts
James Johnson: getMade Design
Pàdruig Morrison: Musician and crofter
Tanveer Parnez: BEMIS Scotland
Donald Shaw: Celtic Connections
Nicola Strachan: James Hutton Institute
Caroline Thompson: Inclusion & Evaluation Specialist
The programme of events will take place from April – September 2022.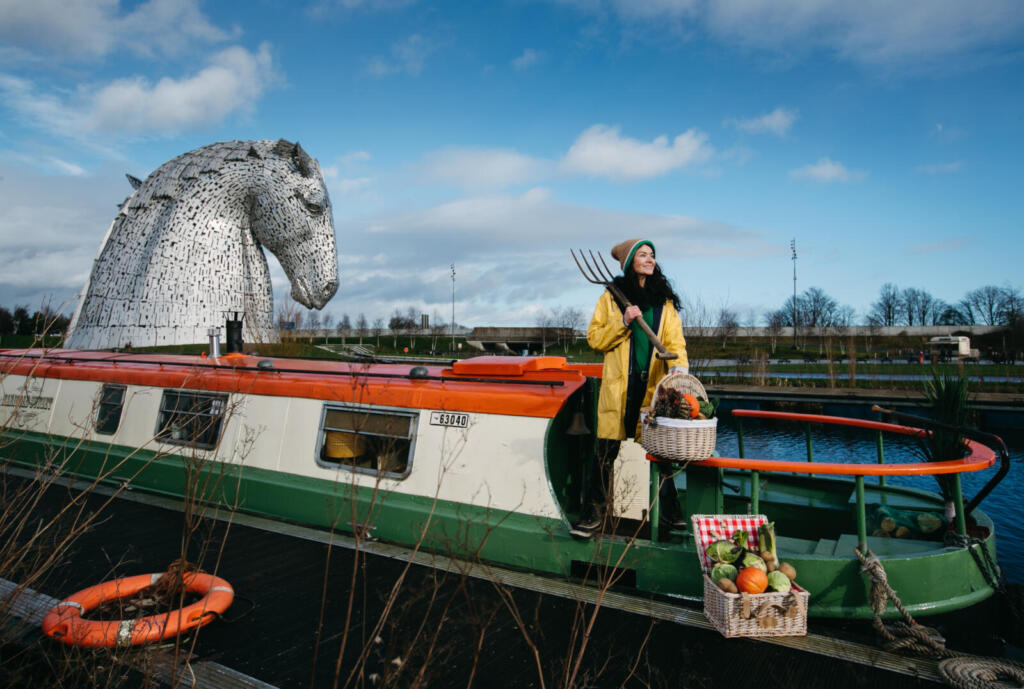 Dandelion at Falkirk's Helix Park. Pic by Alan McAteer
How does Dandelion work?
Dandelion is an ambitious creative programme that demonstrates the power of collective action in a major "grow-your-own" initiative. Dandelion invites everyone to sow, grow and share – not just food, but music, scientific knowledge, and ideas. Rooted in Scotland, with an international outlook and sustainability at its heart, the Dandelion programme follows the arc of the growing season and will culminate in hundreds of local Harvest celebrations across the country.
Dandelion aims to make growing your own food as easy and accessible as possible to people of all ages through events and activities taking place all over Scotland – from the remotest islands to the centres of cities – including seed giveaways, music and cooking.
At the centre of the programme are the Unexpected Gardens – unusual and inspiring sites that will spring up across Scotland, showing that even the unlikeliest space can bloom. Bringing new life to waterfronts and car parks, loch-side tidal sites and canal barges, unexpected places will be transformed into edible gardens, created in collaboration with Dandelion partners all across the country. These surprising sites will become places for all ages to sow, grow and share, with each garden hosting a unique programme of events culminating in a Harvest celebration in September 2022. A Musician-in-Residence will also connect with each garden to create brand new work.
Each Unexpected Gardens will host one of Dandelion's luminous Cubes of Perpetual Light – part artwork, part laboratory, the Cubes are miniature vertical farms that showcase the futuristic side of growing and just what's possible when design, engineering and horticultural know-how combine.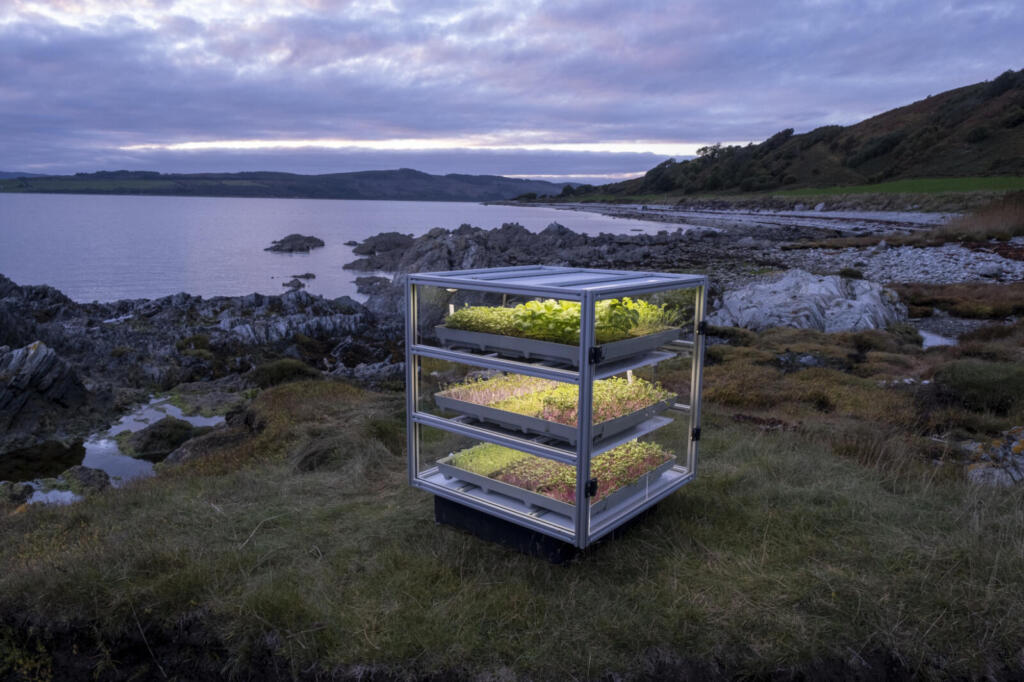 Cubes of Perpetual Light, Bute. Pic by Alan McAteer
Two free Dandelion Festivals of music, food and events will book-end the summer. Taking place in Glasgow in June and Inverness in September their backdrop will be a giant Pavilion of Perpetual Light, made up of many of Dandelion's cubes. Each Festival will culminate in a day of music, featuring a vibrant and diverse line-up of Scottish and international artists.
The Dandelion Schools Growing Initiative will see school children become citizen scientists in the largest community-led growing experiment ever undertaken in Scotland, with schools using their own Cubes of Perpetual Light to conduct experiments, comparing future farming techniques with traditional growing. They'll also be part of the Big Tattie Experiment, with 200 tonnes of specially made growing medium taken home to grow potatoes in anything from wheelbarrows to wellies. Children will then be invited to share what they grow at playground Harvests happening at each school in September 2022, alongside art, live music, and stories.
What is your vision for the future?
Long-term we hope to inspire new growers to produce their own food, and communities to reinstate the tradition of Harvest across Scotland.
Why did you choose .scot?
We're aiming to have growers and Harvest events across the whole of Scotland, so the entire country can get involved. We felt like a .scot website would be one good way of representing our hopes to engage people and communities across the country, as well as attracting visitors to a project that is clearly rooted in its location.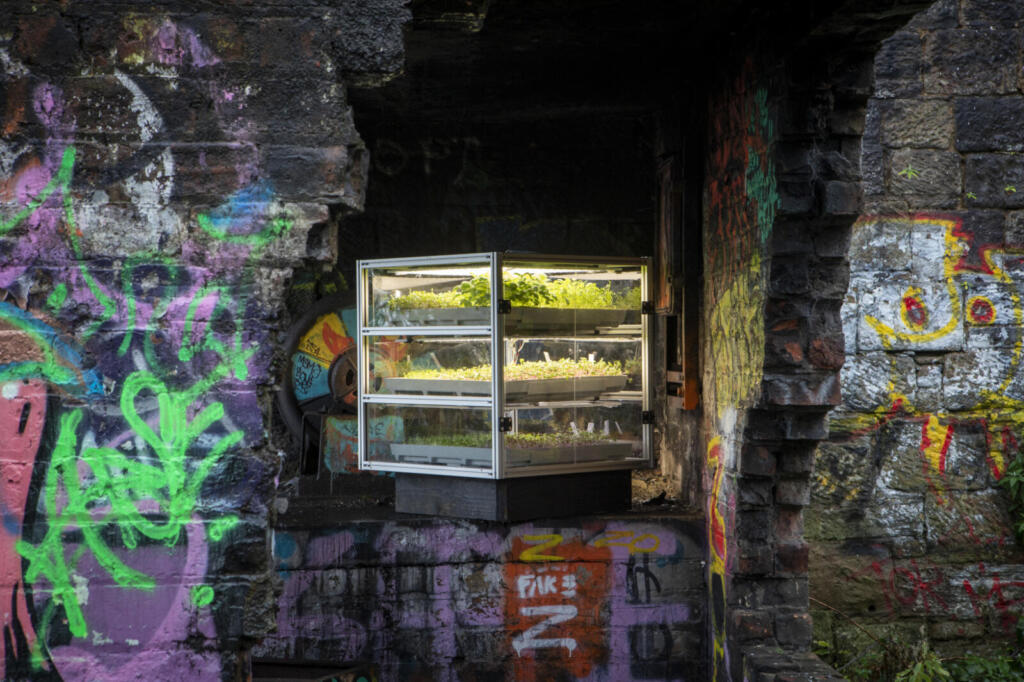 Cubes of Perpetual Light, Graving Docks, Govan. Pic by Alan McAteer
For more information, please visit Dandelion.scot