With the internet being such a regular part in our daily lives it's easy to forget that it wasn't always hashtags, likes and retweets. Nowadays online communities are formed easily and quickly across various platforms, adapting as the social spaces on the internet change rapidly. But before the internet existed in the form we're familiar with today, online communities and the way Scottish people connected was very different. Scotland also played a key part in making the internet more accessible for the UK thanks to our very own Craig Cockburn.
Early Beginnings
In 1980 before the internet was widely accessible, Craig Cockburn set up an online forum for discussing Scottish Culture and politics within Digital's network. This was the 2nd largest computer company worldwide at the time, reaching an audience of 115,000 people. In 1990 he gained support from Scots worldwide as he created a newsletter delivering Scottish news to Scots across the globe. This was an otherwise difficult feat and reached out to the diaspora eager for Scottish news. Here's an extract from October 14th 1990: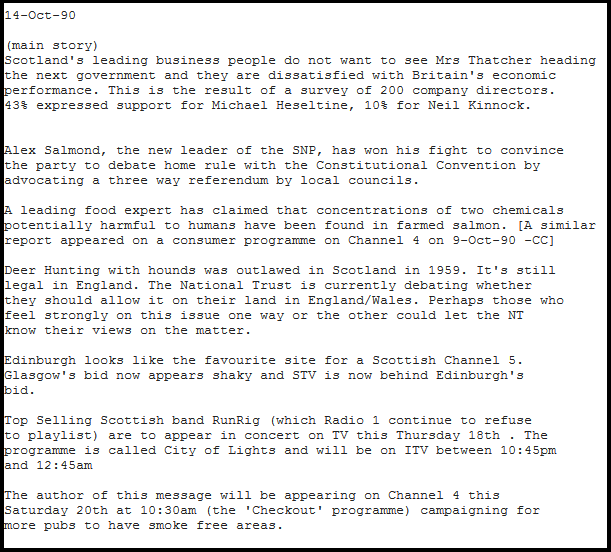 Scotland Online
In 1989, the first email list for a minority language was established by Caoimhin O' Donnaille (Sabhal Mor Ostaig, Skye) and Marion Gunn (Dublin) in the form of Gaelic-L. It consisted of Scots, Irish and Manx Gaelic. It had approximately 700 members and on average sent out 5-6 messages a day. Both fluent speakers and Gaelic learners signed up meaning Gaelic-L was an innovative way to learn a new language decades before online language learning communities became one of the most accessible and successful ways to learn.
Afterwards Craig set up the first UK internet guide in the form of an email list aptly named the 'UK Internet List'. This helped users set up and access the internet from PCs in their own homes. It listed the names and prices of available networks, helpfully pointing out peak-times and ways to avoid being caught out by the higher charges. At this point, 'flat rate' internet was novel and it was more usual to charge per email or per kb, a far cry from the way things are now.
Newsgroups were also a popular way for like-minded people to communicate and share ideas on the internet at this time. Through this medium the first online guide to Scotland was set up in 1994 as part of a wider project surrounding Celtic culture. You can access this here.
Online Today
So here we are today. Scottish online communities can be found in many forms across social media, websites and forums. Facebook groups (such as Scotland from the Roadside) boast large numbers of like-minded Scots sharing photographs and stories about Scotland. Over on Twitter and Instagram hashtags like #scotspirit and #lovescotland are used. The accessibility to these online communities is tenfold, but looking back it's fascinating to see that Scottish online communities have always existed in some shape or form.
We at DotScot provide a new cultural identifier and a way to be part of the online global community of Scottish people. As well as being used to promote Scottish art, culture, businesses, education it is also used by individuals who want to highlight their Scottish connections or simply like having '.scot' as part of their internet identity.
We see it as contributing to global citizenship and helping build a unique Scots community online. You can get involved more with our online community by following us on Facebook, Twitter and Instagram.