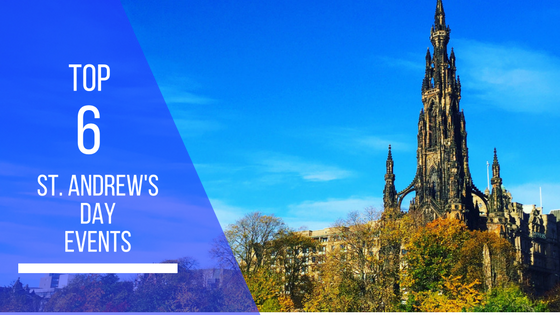 There is no shortage of ways to celebrate St Andrew's Day with events taking place not just across Scotland but around the world! And did you know that this year, celebrations in Scotland are continuing into the weekend with the first ever St Andrew's Fair Saturday, a celebration of arts, culture and community? Bonus!
Here are just six events that we like the look of but whether you're ceilidh-ing into the weekend or enjoying a haggis supper, we hope you have fun and enjoy the spirit of Scotland's National Day!
St Andrew's
St Andrew's day in St Andrews is so big that it has its very own website of events including a market with live music during the day followed by a Street Ceilidh, Torch Parade and a Fireworks finalé!
East Lothian
In East Lothian, The Saltire Festival has been running since 24th November and continues until 6th December. Their St Andrew's Day events are sold out, so why not extend the celebration with The Saltire Concert on Saturday 1st December or Outlaw King film screening on Sunday 2nd December? @goeastlothian, @OutlawKing
Glasgow
A St Andrew's Day Torchlight Parade will once again lead a procession through Glasgow's West End from the Botanic Gardens to Kelvingrove Art Galleries, joined by pipe bands, samba drummers and fire performers! Proceeds go to support local charities. @westendfest
Edinburgh
In Edinburgh you are spoilt for choice with ceilidhs galore including one at the Jam House organised by the Edinburgh Dog and Cat Home. But if you fancy something a bit quieter, why not stop by the Waverley Bar for a storytelling evening with Lari Don, keeping alive some of Scotland's traditional monster tales! @EdinDogCatHome, @LariDonWriter
Outer Hebrides
For anyone a little further north and west, batten down the hatches and enjoy an evening of contemporary folk music with award-winning band Breabach, in the final event of a week of celebrations in Stornoway, Isles of Lewis. @breabach, @anlanntair, @OuterHebs
Something Different!
Finally for something a little bit different, on St Andrew's Fair Saturday 1st December The Hunterian in Glasgow is hosting a Night at the Museum: Comics Scotland. Featuring stalls, guest speakers and a cosplay competition, this event will showcase world class research and objects from the university's collections, including the world's first comic! In true comic-con style, comic-themed costumes are highly recommended. @hunterian.
Okay, so that was more than 6 but there was too much choice!
Disclaimer: dotScot has no affiliation with any of the above events… but we wish we could go to them all!