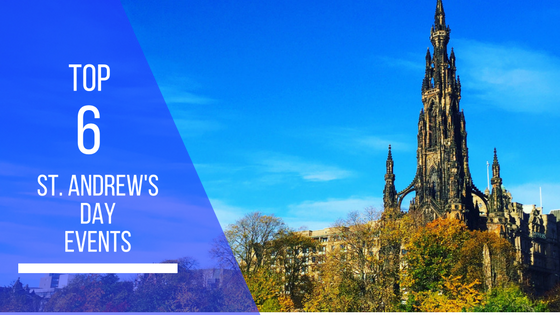 You certainly won't be stuck for something to do this St. Andrew's day as a whole host of events will be celebrating ol' St. Andrew across the country. From light shows to torchlight parades, there's more than just a haggis dinner and a quick ceilidh on offer. Here's some of our top picks taking place throughout the month.
The Saltire Festival- East Lothian, 24th-30th November
You'll be spoilt for choice if you live in East Lothian as the Saltire Festival will be putting on a bunch of of St. Andrew's Day  themed events. The #SaltireBlue event will see various famous landmarks lit up blue to mark the occasion, including the Kelpie Maquettes which will be hosted at Musselburgh Racecourse. If you need something to warm you up, the Saltire Dinner in North Berwick at the Macdonald Marine hotel will provide the finest Scottish food and drink to get you in the spirit, with live music from Eve Doyle. For details on all the events on offer, you can find out more here: http://www.visiteastlothian.org/the-saltire
The Clubhouse of The Royal and Ancient Golf Club Open Door Event- St.Andrews, 30th November
Grab a chance to see the infamous Trophy Room and explore the historic hallway showcasing the Open Championship Claret Jug as the exclusive club opens their doors to the public on St. Andrew's day. Between 10am-5pm, staff will be on site to show you around and you'll get almost full site access. This is a free event for people of all ages. For more details, visit: http://www.randa.org/Heritage/The-Club-House/The-Royal-and-Ancient-Clubhouse
Glasgow's St. Andrew's Day Torchlight Parade – 26th November 2016 (6.30pm)
If you fancy doing something a little different to celebrate, the St. Andrew's torchlight parade through Glasgow's West End should do the trick. The folks at West End Festival will be putting on the sparkling evening, and after parading through the main parts of the West End you'll be greeted in the Kelvin Way with a fireworks display, a live band and food and drinks. For more details, visit: www.westendfestival.co.uk/
The National Wallace Monument – Stirling, 30th November
Grab your cosiest winter hat and brave the Wallace Monument's mighty climb this St. Andrew's day as the whole family get free admission to celebrate! For more details, visit: http://www.nationalwallacemonument.com/ht_event/st-andrews-day/
Scottish Storytelling Centre's Café Ceilidh- 29th November, Edinburgh
If St. Andrew's  day makes you crave the sound of the Scottish fiddle or makes you want to stomp your feet then this is the event for you. Members of Linten Adie and other friends from the Scots Music Group will provide an afternoon of free traditional songs, stories and poetry. All are welcome to the Storytelling court and you can find out more details here: http://www.tracscotland.org/scottish-storytelling-centre
Illumination: Harbour Festival of Light- 30th November-3rd December, Irvine
To launch Scotland's winter festivities, Irvine's historic waterfront and the Scottish Maritime Museum will be lit up in all their glory. Launching on St. Andrew's Day,  you'll be treated to a free fireworks event and a water-themed sculpture trail created by light artists Aether & Hemera. For more information, visit: http://illuminationfestival.co.uk/
And for those Scots Gone Global…
We couldn't possibly list all the events celebrating St.Andrew's day across the globe- and we're happy to report you'll find plenty of them! From the warm St. Andrew's Gala in Cyprus to the lively St. Andrew's Day Ball in Dubai ,the 50 million members of the Scots diaspora have thoroughly ensured St. Andrew's Day makes its mark across the globe.